---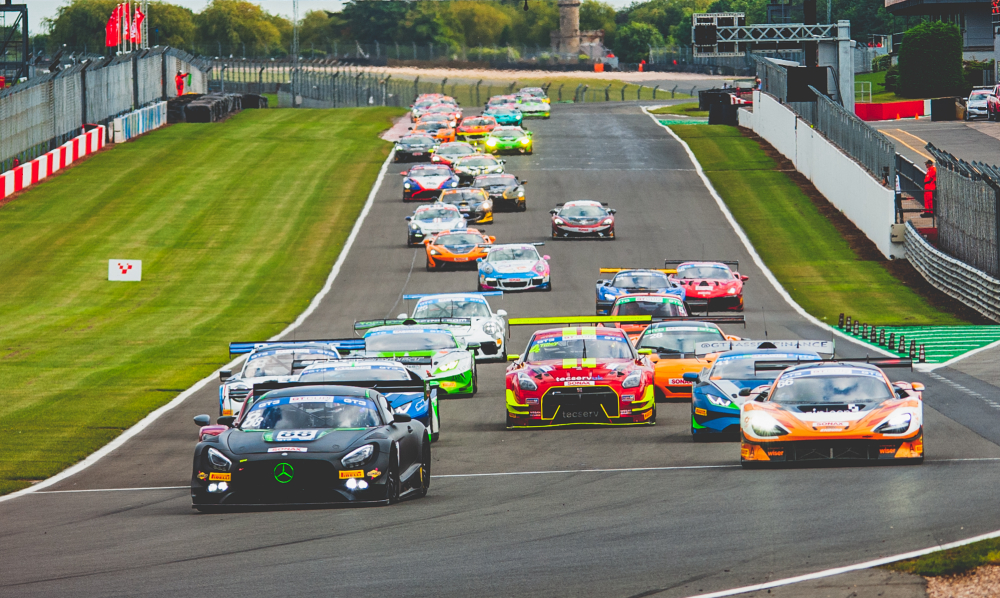 Four overall winners in breathless penultimate weekend at Donington Park
19 September 2021
Four different teams scooped overall wins as the GT Cup Championship put on a thrilling penultimate weekend where title battles twisted and turned, setting up a mouthwatering finale at Snetterton in early October.
The quartet were all first-time overall winners, with Raw Motorsport and Enduro Motorsport putting on two action-packed battles on Saturday to take a win each. While on Sunday, G-Cat Racing was in the right place at the right time to scoop the Sprint win, before Scott Sport came up trumps in the second Pitstop Race.
GTH featured two different winners, as Orange Racing's Josh Jackson twice triumphed on Saturday while championship debutant Charles Clark did the same on Sunday for IN2Racing.
An even split was also the order of things in GTA, as makehappenracing dominated the first day's running. Simon Orange put on a similarly commanding performance on Sunday.
Raw Motorsport added a GTO class win to their overall victory on Saturday, while Paul Bailey gave his extremely rare McLaren GT3 Canam two class triumphs a day later.
Nick Phelps was only denied a GTB clean sweep by Charlotte Gilbert in the Topcats Marcos.
Topcats also had reason to celebrate in GTC, as Warren Gilbert was one of four winners in that class, alongside Stanbridge Motorsport, Millington Motorsport, and G-Cat.
Saturday
Sprint Race
Steve Burgess fended off Morgan Tillbrook in a thrilling scrap to take a hard-fought victory for Raw Motorsport.
At the start, Richard Neary made a great start from pole in the Team Abba Racing Mercedes but ran slightly too deep at the first corner and went through the gravel. That promoted Burgess into the lead and a fast-starting John Dhillon into second.
It wasn't long before Tillbrook passed Dhillon and got on the back of the Radical for the lead.
The McLaren driver was all over the back of Burgess but couldn't find a way through, with the RXC getting a slightly quicker exit off the corners to keep Tillbrook at bay - taking the chequered flag just a quarter-of-a-second ahead.
Tim Morley converted pole to GTC victory for Stanbridge Motorsport, while Nick Phelps did his class title hopes a major boost with a dominant GTB victory in his Porsche 911 GT3 Cup.
Pole-to-win victories proved popular, with both Josh Jackson and makehappenracing's Chris Hart claiming the GTH and GTA honours respectively.
Pitstop Race
The first Pitstop Race of the weekend proved to be a thriller with a see-sawing battle that was only decided as the chequered flag dropped.
Morgan Tillbrook's fastest lap in race one put him on pole, but Richard Neary led the first full lap as he swept round the outside of Redgate and into the lead.
Getting to the groups of traffic first, Neary was able to pick his way through and extend his advantage over Tillbrook's McLaren.
That changed, though, at the mandatory stop. A longer stop for the Nearys after their Silverstone triumph allowed Tillbrook's co-driver Marcus Clutton to come out of the pits ahead, maintaining his advantage to the chequered flag.
Joined by Ben Dimmack for the Pitstop Race, Steve Burgess completed his sweep of the day as they took the top spot in the GTO class in their Radical.
It was the same for Orange Racing's Josh Jackson as he combined with Michael O'Brien to storm to GTH victory in the McLaren 570S GT4.
Nick Phelps, who prevailed in GTB, and Chris Hart, who took on all of Saturday's driving in his Ginetta G55 in Group GTA, completed their domination of Saturday's action.
A thrilling GTC battle went the way of Millington Motorsport's Roy Millington and Benny Simonsen after the Ferrari pair fought off early pressure from Stanbridge Motorsport's James Simons.
Sunday
Sprint Race
Shamus Jennings capitalised on misfortune for Sam Neary to take his first overall GT Cup triumph in a great display of defensive driving in the G-Cat Racing Porsche.
Neary made his typical rapid start in the Mercedes, and built himself a handy lead with just a few minutes of the race remaining. Unfortunately, a technical issue with the car forced him into early retirement.
That handed Jennings the lead and, thanks to fending off both Morgan Tillbrook and John Dhillon, held on to take victory by less than half-a-second.
G-Cat had a second reason to celebrate as David Shaw took GTC victory on his championship debut. Also converting pole to class victory was Charles Clark, who powered his way to GTH success.
GTO went to Paul Bailey in his McLaren GT3 Canam - one of just three built - while Charlotte Gilbert prevailed in GTB. Simon Orange rounded out the winners with a triumph in GTA.
Pitstop Race
John Dhillon bettered his result from Sunday's Sprint as he combined with Phil Quaife to romp home in the final race of the weekend.
It started as a continuation of the early event, with Shamus Jennings defending valiantly from Dhillon as the pair duelled their way through traffic.
The race ultimately swung the way of the Scott Sport duo in the mandatory stop. Carrying a shorter success penalty than the G-Cat Porsche, Quaife powered out of the pits in the lead and maintained his advantage over Jennings' team-mate Greg Caton to the flag.
In a demonstration of just how quick the McLaren Canam is, Ross Wylie piloted the machine to third overall and a second GTO win alongside Paul Bailey.
Warren Gilbert added more silverware to his cabinet as he came in fourth overall and a comfortable winner in GTC. Although, one more lap and Tom Webb - who started from the pitlane - could have had a chance to take the glory for himself.
Nick Phelps completed his hat-trick alongside Dino Zamparelli with GTB honours in his Porsche, while Simon Orange took a double in GTA.
Charles Clark ended his GT Cup debut on a high with a GTH win alongside Ben Barker in the IN2Racing Cayman.
#7 Steve Burgess
"I got my head down and tried to get a bit of a gap. I could see John [Dhillon] in the background and I was pulling away and I thought 'this could be a nice, easy, comfortable ride' and then Morgan got past and he was in my mirrors getting closer and closer! The second-half of the race was very hard work, I was very defensive in the slower bits, I think we were struggling with a bit too much pressure in the front tyres so understeering slightly but managed to hold on until the end.
"I think we lose a little bit of downforce through the high-speed compared to the GT3 McLaren, but down the straight we've got the legs. Just went defensive in the slow stuff and then just booted it down the straights."
#66 Morgan Tillbrook
"It was a great race, and fair play to Steve because he drove really fairly and earned the win fair and square. It was good fun - great fun - and great racing, how racing should be - it was kept clean, tight and fun. Pleased to get a podium and a class win. I think maybe if I had a few more laps and there wasn't any more traffic I may have been able to make a move and make it stick. I made a few moves on the Radical, but just couldn't make them stick. Fair play to him, he did a great job and made me work very hard!"
#1 Josh Jackson
"Saturday couldn't have gone much better than it did - two fastest laps as well! It was good, the start was good, I managed to find a bit of space. We knew we had a 15-second penalty from the last race at Silverstone, I came in with something like a 21-second lead so we made it up nice and it made Michael's job a lot easier. Michael drove really well, kept the other Pros behind him. It was chaos out on track! It was nice and quiet for me, but Michael had a bit more of a battle on his hands. Really happy with the day, and we look forward to tomorrow and we'll see what happens, we've set the bar high now! I think we got all the points we could possibly find."
#56 Roy Millington
"It was brilliant, I loved that last race. At the beginning we got caught up a little bit and we thought the race was lost but it came good. I had traffic all round me for the entire stint, it was really good - really exciting - and thoroughly enjoyed it. We knew the Lamborghinis were really quick so to get first is just brilliant. "
#33 Shamus Jennings
"I had a good start, the Mercedes moved away quite rapidly. I had a good scrap with the McLaren but I managed to hold him off and then he disappeared - I think he went a bit wide. After that I went a bit lazy and dropped my lap times a bit, I thought 'well the Mercedes has went in front' but then blow me, driving round there's a Merc parked at the side of the road and I thought 'god I'm P1'! So I thought 'brilliant, I'll take it easy!' But then we were lapping cars and on a couple of laps it cost me three or four seconds but I thought it was okay and I'll just stroke it home, but then I looked in the rearview mirror and I saw John and I thought 'oh god!' But we had a good little scrap until the end, very clean, very fair."
#28 Paul Bailey
"The car that I'm driving, they only made three of them and I bought it really as an investment - it's chassis number one. The other two cars have been upgraded to a newer style with more power and better suspension than my car, so it's the only one left so I've had to be really careful with it because it's worth a lot of money. It was fantastic to get the car out and race it, and win. Obviously the Radical is much quicker, but he had problems and I haven't and that's what racing's all about - in order to win, you have to finish."